Compliance Engineer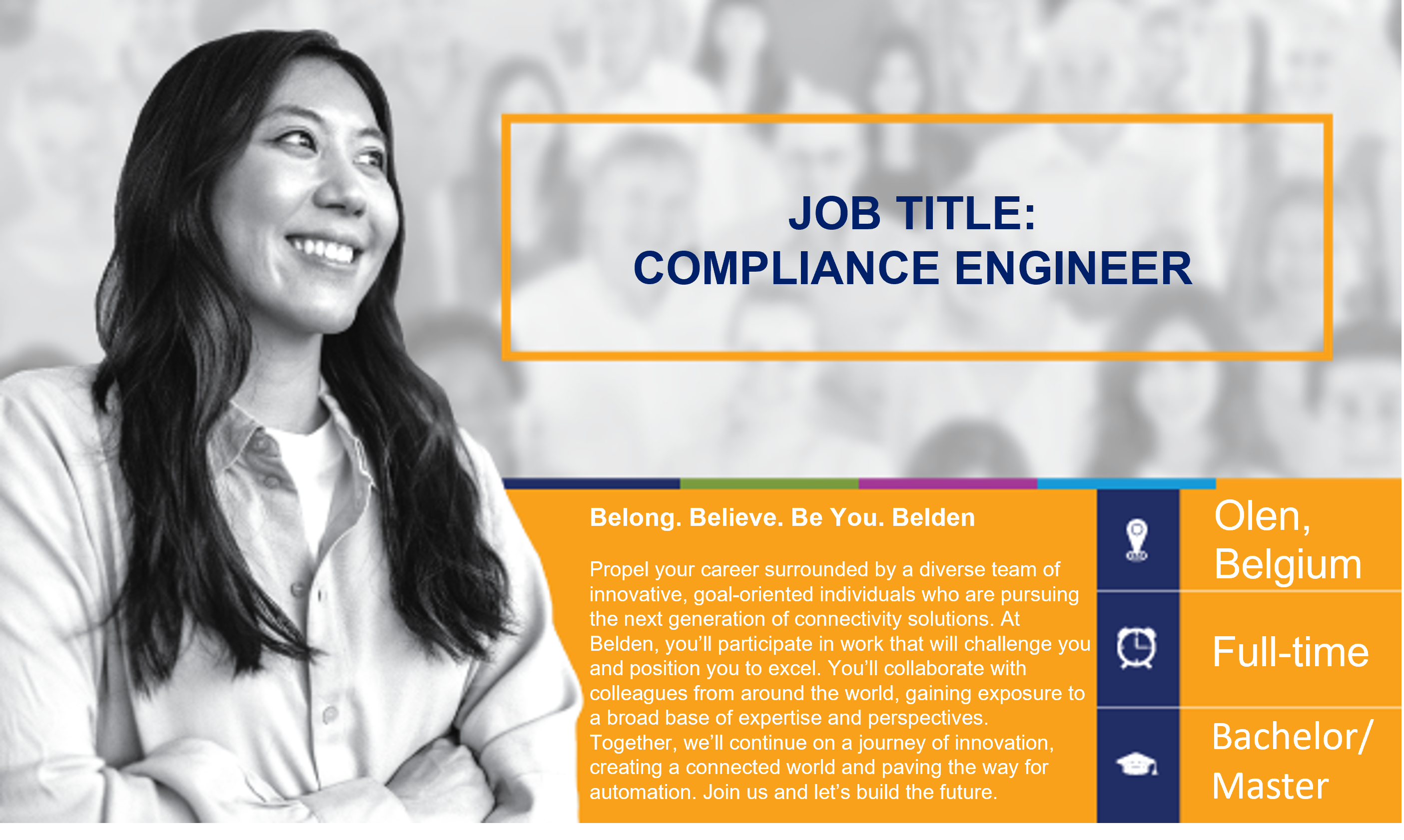 You will make an impact in the following way:
As member of the hardware team, you will join a team that develops new hardware functionality for the XTran platform. Those hardware products must be certified according to local, national, and international standards (EMC/EMI , safety, RoHS , REACH, ….) . As Compliance Engineer, you divide your time and attention between technical, informative, administrative work (research, analysis, reporting) and communicate with involved internal departments and externally with the testing laboratories.
Responsibilities:
Stay up-to-date with industry standards and best practices.
Prepare test plans, test setups and all information required by the testing laboratories.
Arrange product testing with external testing laboratories.
Assist with external audits to prove that the products meet the standards that apply to our products.
Work with cross-functional teams to identify and resolve issues.
Arrange reliability calculations (MTBF) with external company.
Be involved in environmental regulations such as RoHS, REACH, TSCA, ……
Provide technical support to customers and internal teams.
Maintain documentation and records of results.
Profile:

Bachelor or Master degree in Electronics (also open for Junior profiles)
Familiar with Office365 tools
Working proficiency and excellent communication skills in verbal and written Dutch and English
Motivated team player
Ability to work independently and as part of a team
Strong analytical and problem-solving skills
Eager to learn in his/her role.
Preferred qualifications
Knowledge of international standards and regulations (preferred)
A few years of experience in a similar role (preferred)
EMI/EMC/LVD knowledge (preferred)
We offer:
A function with a broad responsibility and we offer you the opportunity to perform independent but with the full support of the team.
A professional, warm and supportive team.
Market adjusted gross monthly salary and we like to add the following French benefits : mealvouchers 8 euro, hospitality insurrance, groupsinsurrance , partly refund of internet connection at home, mobile phone, laptop, full electric company car according to your grade and our pendel policy and if requested we can also provide a lease for a bike.
We also offer our employees two extra days leave of absence paid , 12 ADV days and our company is closed between Christmas and New Year.
Belden and OTN Systems think very highly about employees wellbeing, and we organise different activities throughout the year.
Interested?
Send an e-mail to joke.van_scharen@otnsystems.com
---
About Belden & OTN Systems
Belden is a global company that designs and markets high-quality end-to-end connectivity solutions and services for customers across its recognized automation, enterprise, and industrial markets. Belden is committed to helping organizations operate more efficiently and realize value where it counts most.
OTN Systems, a part of Belden and located in Olen, Belgium, is a leading supplier of mission-critical telecommunications solutions to industrial customers. We design and market high-quality end-to-end connectivity solutions and services for customers across automation, enterprise, and industrial markets. Our product XTran, is a network that consists of nodes, interconnected by Ethernet, and a management system called TXCare. A variety of node types is available providing the ideal solution for each location. XTran secures reliable operations in harsh environments, while its management systems (TXCare) support intuitive and simple handling.
---