HR Generalist / HR Business Partner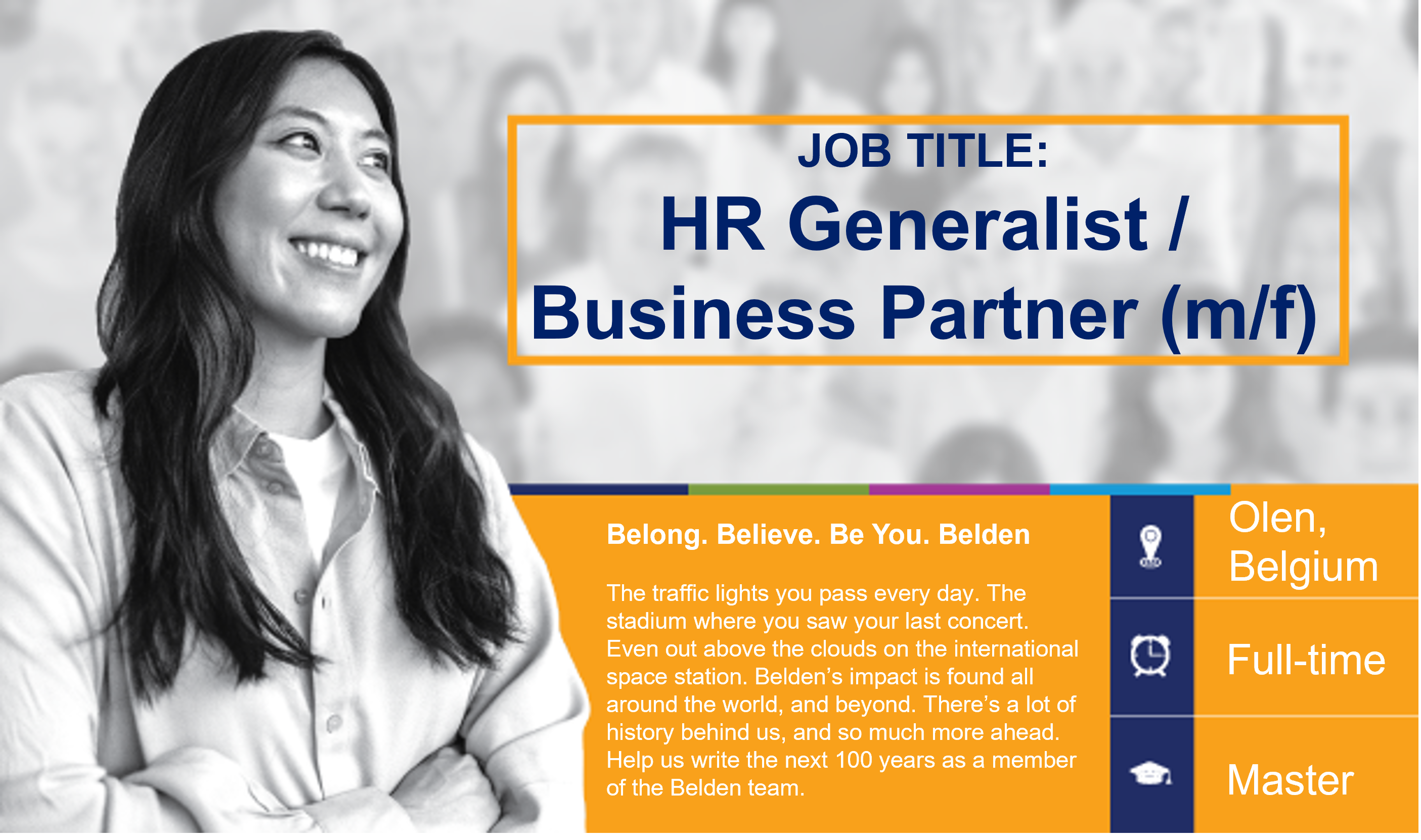 ---

Job summary:
You will be responsible for the execution of HR strategies, programs and policies within Belden Belgium for OTN Systems business and you will support Belden Switzerland for our newly acquired NetModule business, in close cooperation with the Belden EMEA HR Leadership team.
Responsibilities:
Recruitment: leads national and international recruitment and selection actions. Places ads, screens candidates, coordinates candidate interview processes and makes individual offers. Facilitates new hire on-boarding processes.
Internal Communication: optimizes communication within the company for all HR-related topics (including E-HR).
Payroll & HR administration: manages payroll and benefits administration.
Personal development & Talent management: coordinates training programs and career development, develops a plan to identify critical roles and functions.
Performance Management: coordinates the annual performance appraisal process, advises management on changes.
Compensation & benefits: investigates compensation options and keeps current on industry market compensation & benefits trends. Manages employee benefit plans and (group) insurances.
Employee relations: acts as the primary 'go-to person' for any work related issue.
Industrial relations: active role in works council, affinity with unions.
Required skills and Experience:
Master degree in Human Resources, Law, Business Economics, Psychology or equal by experience with at least 5 years experience in an HR Generalist role in an international company
Good knowledge of Belgian Labour law and international employment regulations
Excellent communication/presentation and negotiation skills
Hands-on experience and strong planning and organizational skills
High level of energy, enthusiasm, initiative and commitment to deliver
Strong analytical and structured problem solving capabilities
Good PC skills (MS Word, Excel and PowerPoint)
Multilingual: Dutch, English as a minimum. Both written and spoken
Exemplary on ethics, integrity and confidentiality
We offer:
A competitive salary with extra-legal benefits.
A stimulating and challenging environment with the real power of development.
The pleasure of working with different cultures on a global scale.
The unique combination of the industrial world combined with telecom.
A team where real team-players feel at home.
A company that values the contribution of every employee.
An office address that is reachable without traffic-jams.
Interested?
Send an email to rudy.verdonck@otnsystems.com
---
About OTN Systems
OTN Systems NV, located in Olen, Belgium, develops and markets the XTran (Excellence in Transport) telecommunication equipment, dedicated to the operational telecommunication departments of metros, light-rails, oil & gas, mining, ITS (intelligent highways, tunnels & bridges), ports, utility companies, public safety and industrial campuses. With OTN Systems' unique products, it is possible to integrate different applications for voice, data, LAN, video, SCADA, etc. into one high-speed network in a single fiber optic backbone. More specifically, the OTN Systems products are at their best when it comes to mission critical networking. This is made possible by strong investment in product development and a highly skilled workforce, resulting in a unique product portfolio based on cutting edge technology.
NetModule AG, headquartered in Bern, Switzerland, specializes in providing reliable, fast and secure wireless network infrastructures in a variety of mission critical industries with a strong focus on mass transit and intelligent traffic systems within the transportation vertical.
OTN Systems and NetModule are both trusted brands of Belden Inc., a global leader in high quality, end-to-end signal transmission solutions. Belden Inc. delivers a comprehensive product portfolio designed to meet the mission-critical network infrastructure needs of industrial, enterprise and broadcast markets.
---