HSE and Quality Manager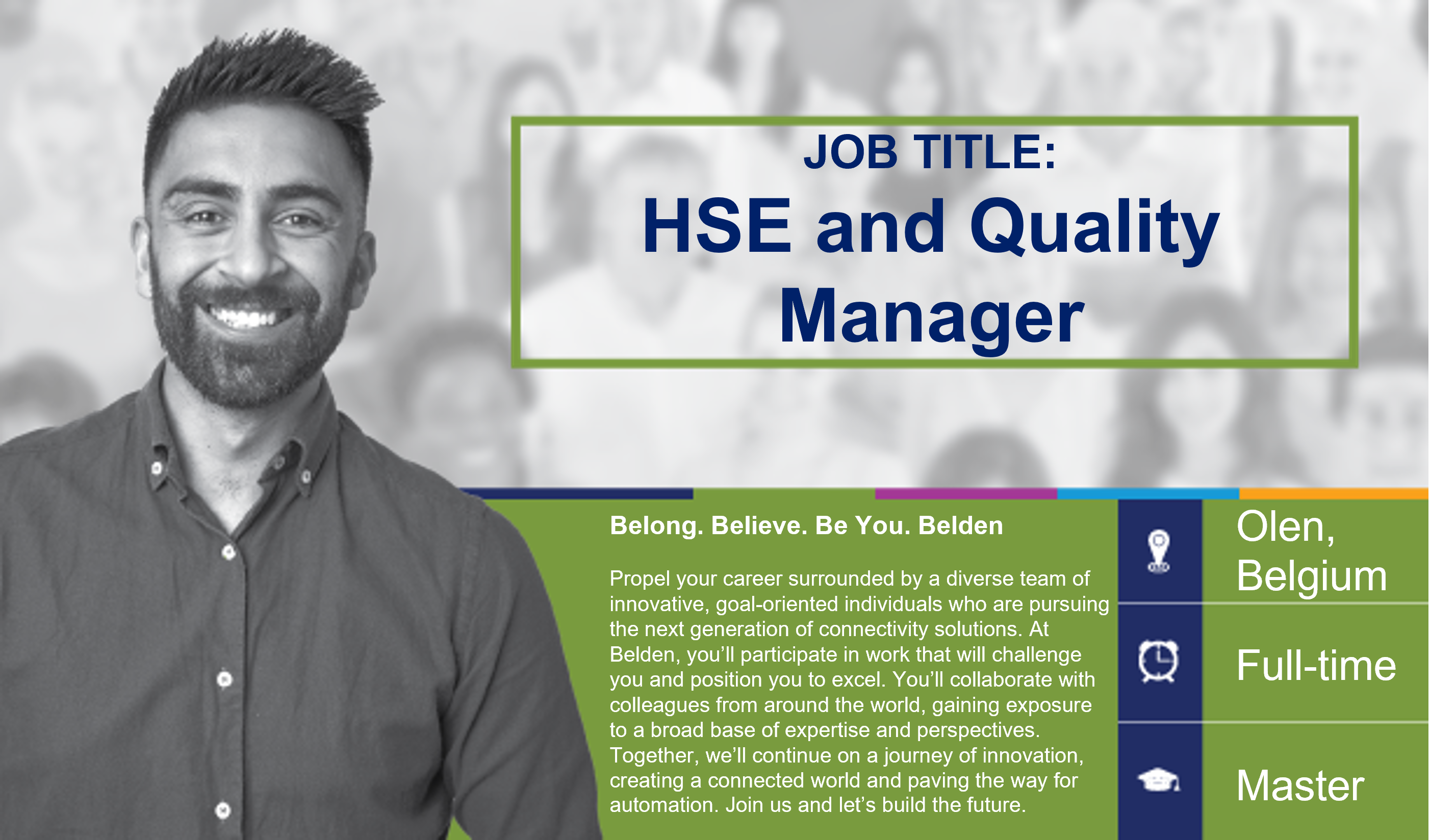 ---
Job summary:

In your role as HSE and Q manager you are responsible for the Health, Safety, Environment and Quality systems at our OTN Systems Belden facility in Olen, Belgium. You ensure compliance to internal and external HSEQ requirements and manage the relevant external certifications (currently only ISO9001).
Following topics are part of your job:
You implement and follow up the HSEQ management systems
Member of the so called CPBW (comité van preventie en bescherming op het werk)
You are the driving force for legal compliancy of HSEQ related aspects
You align the HSEQ systems with the systems applied in our corporate Belden group
To assure continuous improvement, you make sure HSEQ objectives (and key performance indicators, KPI) are defined and deployed
You perform internal HSEQ audits and take the lead when customer are performing audits at our OTN Systems Belden facility in Olen
You host, prepare and coordinate external audits and visits targeting HSEQ
You coordinate and take the lead in case of critical customer quality issues
You work together with the proposal and project teams in answering customer requests regarding HSEQ aspects
Qualification requirements:
Master degree or equivalent
10+ years of relevant working experience in a leading HSE and/ or quality role
Fluent in Dutch and English
Level 1 or 2 degree as 'Preventieadviseur'
Thorough knowledge of ISO9001 and ISO14001. ISO 27001 experience is a plus
Skills:
Proactivity, assertiveness, leadership, enthusiasm, adaptability and diplomacy
Fluent communication
Ability to work under pressure
Interested?
Send an email to joke.van_scharen@otnsystems.com.
---
About OTN Systems
OTN Systems NV, located in Olen, Belgium, develops and markets the XTran (Excellence in Transport) telecommunication equipment, dedicated to the operational telecommunication departments of metros, light-rails, oil & gas, mining, ITS (intelligent highways, tunnels & bridges), ports, utility companies, public safety and industrial campuses. With OTN Systems' unique products, it is possible to integrate different applications for voice, data, LAN, video, SCADA, etc. into one high-speed network in a single fiber optic backbone. More specifically, the OTN Systems products are at their best when it comes to mission critical networking. This is made possible by strong investment in product development and a highly skilled workforce, resulting in a unique product portfolio based on cutting edge technology.
OTN Systems is a trusted brand of Belden Inc., a global leader in high quality, end-to-end signal transmission solutions. Belden Inc. delivers a comprehensive product portfolio designed to meet the mission-critical network infrastructure needs of industrial, enterprise and broadcast markets.
---