Product Trainer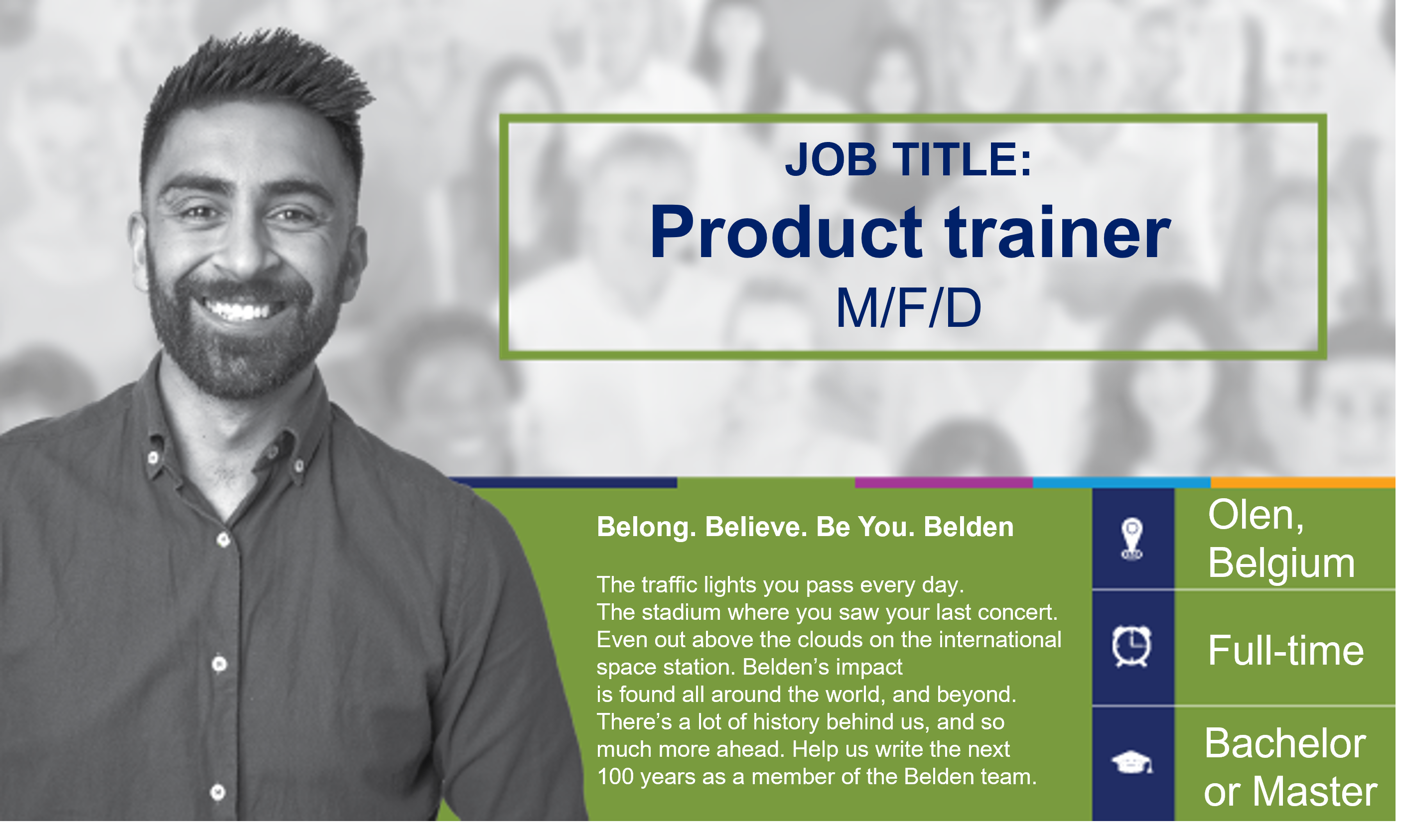 Job summary:
As a product trainer, you educate our partners and customers on our XTran product and solutions. We will support you to become a technical trainer that delivers excellent product training and enables our partners and customers to offer, install or maintain XTran networks.
Qualifications:
Essential qualifications:

Bachelor or Master of Engineering or equivalent through experience
Natural communicator with excellent inter-personal skills
Detail orientated and passionate about technology
Good English language proficiency
Willingness to regularly travel to various locations in the world
We are preferably looking for someone with:
Knowledge of IP networking technologies
Knowledge of operational telecom technology
Previous experience in a training role
Experience with e-learning modules and platforms
Ability to respond and adapt to changing training needs
Good proficiency of an extra language (like Dutch, French, Spanish)

Responsibilities:
Develop and give product training for partners and end customers
Create and present virtual training sessions
Extend / keep training material up-to-date as a result of new product releases and new product functionality
Evaluate and adapt on a regular basis our training offer
Support our sales activities with demo's and expert advice
Competences:
Analytic ability
Decisiveness
Contact skills
Empathy
Flexibility
Assertiveness
Stress resistance
We offer:
A competitive salary with extra-legal benefits
A stimulating and challenging environment
A team where real team players feel at home
A company that values the contribution of every employee
An office address that is reachable without traffic-jams
Interested?
Send an e-mail to rudy.verdonck@otnsystems.com
---
About OTN Systems
OTN Systems NV, located in Olen, Belgium, develops and markets the XTran (Excellence in Transport) telecommunication equipment, dedicated to the operational telecommunication departments of metros, light-rails, oil & gas, mining, ITS (intelligent highways, tunnels & bridges), ports, utility companies, public safety and industrial campuses. With OTN Systems' unique products, it is possible to integrate different applications for voice, data, LAN, video, SCADA, etc. into one high-speed network in a single fiber optic backbone. More specifically, the OTN Systems products are at their best when it comes to mission critical networking. This is made possible by strong investment in product development and a highly skilled workforce, resulting in a unique product portfolio based on cutting edge technology.
OTN Systems is a trusted brand of Belden Inc., a global leader in high quality, end-to-end signal transmission solutions. Belden Inc. delivers a comprehensive product portfolio designed to meet the mission-critical network infrastructure needs of industrial, enterprise and broadcast markets.
---

Learn more about Belden.