Project Manager MEA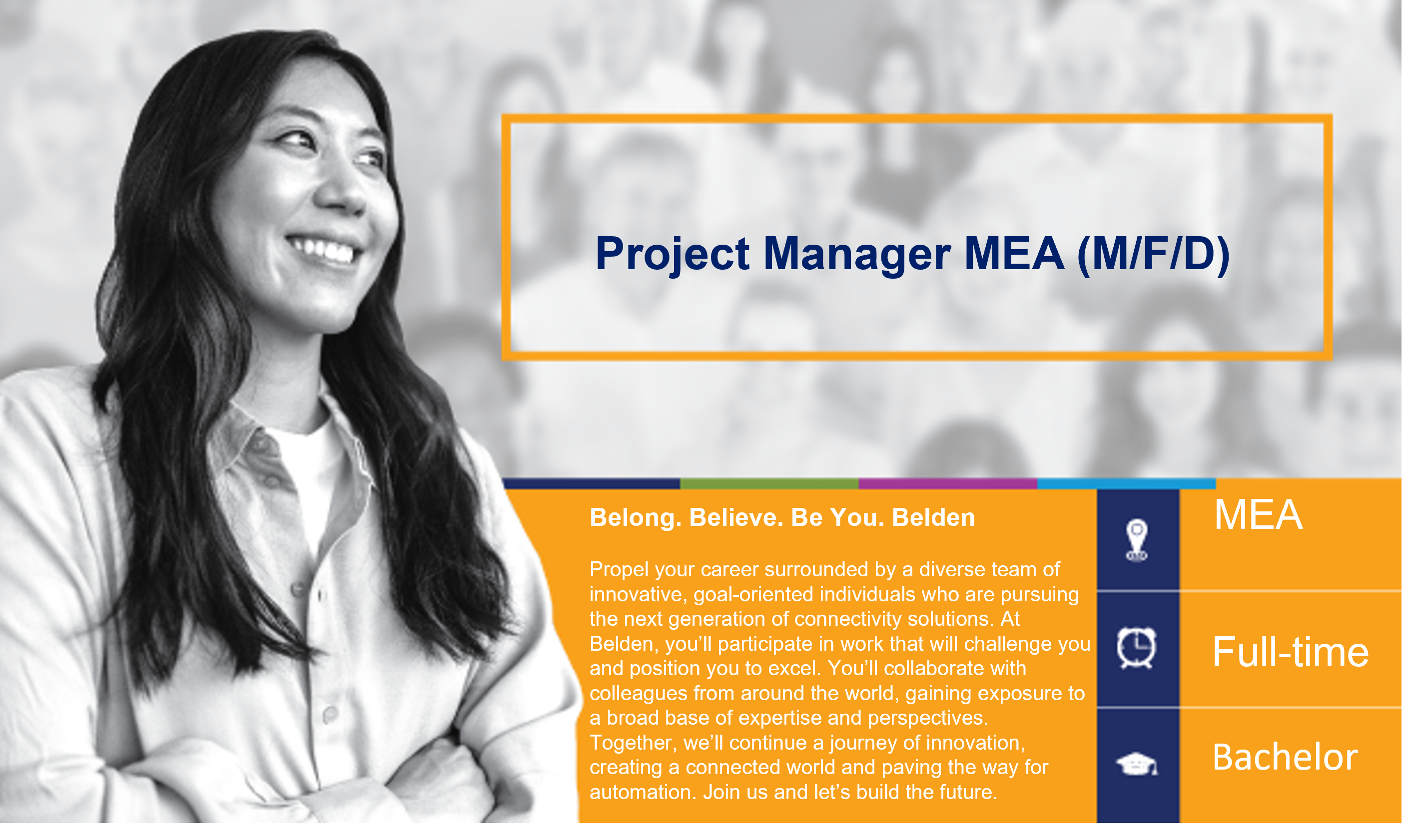 As part of Belden's Commercial Operations Team, Project Manager is a central role to lead and guarantee actions are executed during all phases of large-scaled projects across the MEA region (Middle East and Africa).

You will make an impact in the following way:
The Project Manager coordinates with the Solution Support team and Consultants on various projects, gathering inputs and managing deliverables, to meet customer requirements in line with the project scope.
A Project Manager shall meet customer deadlines and milestones in a timely manner while managing cost and effort.

Responsibilities:
Manage (complex) larger industrial projects through the whole lifecycle
Manage relationships and communication with all project stakeholders, internally and externally
Able to mitigate project risks and execute counter measures for ensuring success
Responsible for creating and maintaining the complete project plan, continue to hit major milestones and pulse deliverables on time and on budget
Provide future-based technical insights to enable project wins and customer loyalty
Provide Market Insight to Sales, Product Management and R&D to support definition of customer and vertical market propositions
Profile:
5+ years project management experience in managing (complex) turnkey or milestone-based customer projects in industrial environment
Bachelor's Degree in Engineering with a focus on OT / IT networking in vertical markets like power utilities, mass transit, discrete manufacturing
Experience of working within a medium to large sized international organization with a matrix environment
Excellent communication and collaboration skills to work effectively with cross-functional teams.
Ability to travel domestically and internationally as required to perform the duties of the role (Approx. 20%-40% frequency of travel). The focus will be Middle East
English fluency to business standard essential
A true team player, respectful of team roles and responsibilities
We offer:
A function with a broad responsibility and we offer you the opportunity to perform independent but with the full support of the team
A professional, warm and supportive team
Market adjusted monthly salary according to your experience
Belden thinks very highly about employees wellbeing, and we organise different activities for our employees throughout the year
Interested?
Send an e-mail to rudy.verdonck@belden.com
---
About Belden
Belden Inc. delivers the infrastructure that makes the digital journey simpler, smarter and secure. We're moving beyond connectivity, from what we make to what we make possible through a performance-driven portfolio, forward-thinking expertise and purpose-built solutions. With a legacy of quality and reliability spanning 120-plus years, we have a strong foundation to continue building the future. We are headquartered in St. Louis and have manufacturing capabilities in North America, Europe, Asia, and Africa. For more information, visit us at www.belden.com.

OTN Systems became part of the Belden group in January 2021.

---