Telecom Test Engineer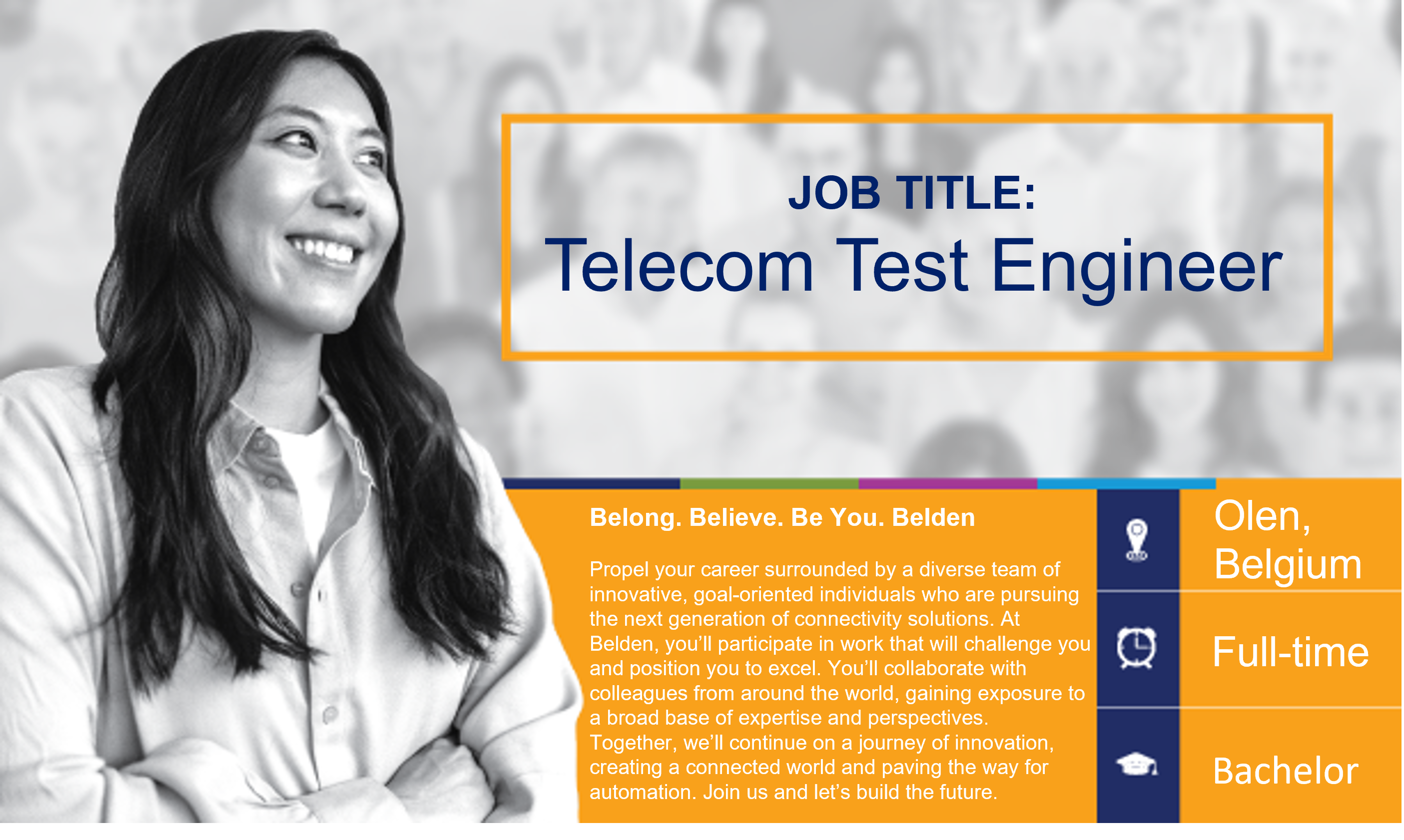 You will make an impact in the following way:

You setup and configure the telecommunication solution (MPLS-TP backbone, switches, routers, SIP-gateways, optical amplifiers).
Prior to the acceptance testing with the customer, you will pre-test the complete solution.
You perform the acceptance testing in presence of the customer and other colleagues from Customer Relations.

Profile:
Education – Bachelor's degree or equivalent in telecommunication.

Networking expertise – Broad telecommunication knowledge (TCP/IP, MPLS, routing protocols, legacy
interfaces such as RS232, E1/T1).

Professional experience – 2 years of relevant working experience in a technical telecommunication function.

Personality – Fast learner, broad interest in new technologies, great communicator, team player, ability to work
in a fast-paced environment.

Language proficiency – Fluent in Dutch and English.
We offer:

•A function with a broad responsibility and we offer you the opportunity to perform independent but with the full support of the team.

•A professional, warm and supportive team.

•Market adjusted gross monthly salary and we like to add the following French benefits : meal vouchers of 8 euro, hospitality insurance, group insurance , partly refund of internet connection at home, mobile phone, laptop, full electric company car according to your grade and our pendel policy and if requested we can also provide a lease for a bike.

•We also offer our employees two extra days leave of absence paid, 12 ADV days and our company is closed between Christmas and New Year.

•Belden and OTN Systems think very highly about employee's wellbeing, and we organise different activities throughout the year.

Interested?
Send an e-mail to joke.van_scharen@otnsystems.com
---
About OTN Systems
OTN Systems NV, located in Olen, Belgium, develops and markets the XTran (Excellence in Transport) telecommunication equipment, dedicated to the operational telecommunication departments of metros, light-rails, oil & gas, mining, ITS (intelligent highways, tunnels & bridges), ports, utility companies, public safety and industrial campuses. With OTN Systems' unique products, it is possible to integrate different applications for voice, data, LAN, video, SCADA, etc. into one high-speed network in a single fiber optic backbone. More specifically, the OTN Systems products are at their best when it comes to mission critical networking. This is made possible by strong investment in product development and a highly skilled workforce, resulting in a unique product portfolio based on cutting edge technology.
OTN Systems is a trusted brand of Belden Inc., a global leader in high quality, end-to-end signal transmission solutions. Belden Inc. delivers a comprehensive product portfolio designed to meet the mission-critical network infrastructure needs of industrial, enterprise and broadcast markets.

Learn more about Belden.