Download the joint whitepaper with ADVA: "A multi-layer approach for Operational Telecom"
This white paper is the result of interop testing conducted between XTran (OTN Systems), the FSP 3000 (ADVA) and the OSA 5401 (Oscilloquartz, an ADVA company). The intention of the white paper is to describe how an MPLS-TP layer can be combined with an optical layer, what functionality should be introduced at which layer and what performance can be expected. Because time synchronization is important for today's OT applications, it also covers this topic in relation to timing over the packet layer and over the optical layer.

Finally, the intention is to explain how all the components and technologies fit together, building the tailor-made solution for modern optical telecom applications.
Why these technologies – Operational telecom use cases
All utilities are facing the challenge of performing a smooth migration from old to new network technology and architectures. Today the evolution is about migrating a PDH/SDH network with limited bandwidth and limited support to full high-capacity packet-based network technology. Several techniques of performing this migration exist and often the solution is based on combining multiple technologies together to create the desired solution. We picked in this white paper two networking technologies that are very popular within utilities.
Multiservice aggregation and transport layer MPLS-TP
The first technology relates to Multi-Protocol Label Switching – Transport Profile (MPLS-TP). This is an evolution of MPLS defined by the IETF together with the ITU, where a centralized management system is used to program deterministic services over a packet network. Because of this approach and the close relation to the mode of operation to their SDH environment, it is considered to be the most appropriate technology for transporting critical applications. Seen as the technology to create an operational telecom infrastructure, it also offers specific features which are important for critical applications like bidirectional, co-routed paths and operations, administration and management (OAM), extending the MPLS framework. The technology is implemented in the XTran product, OTN Systems.
XTran is a ruggedized MPLS-TP platform offering the capabilities of creating Layer 2 and Layer 3 virtual private networks (VPNs) but also the capability of transporting TDM interfaces via circuit emulation.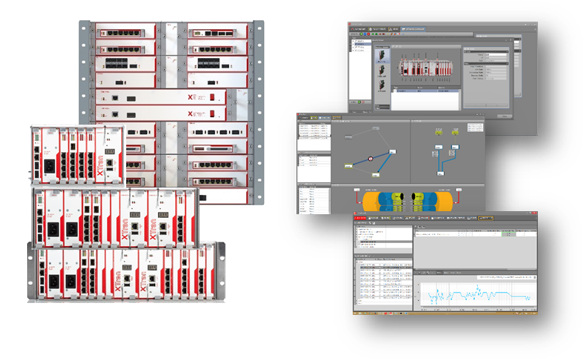 Transmission by optical layer
The second network technology is based on optical transport networking (OTN) combined with dense wavelength division multiplexing (DWDM). The OTN standards, defined by the ITU-T G.709 standards committee, were developed to add SDH\SONET-like performance monitoring, fault detection, communication channels, and multiplexing hierarchy to WDM wavelengths. This, combined with the DWDM technology, allows multiple networks to be combined over a single fiber optic infrastructure. The fact that you can divide the fiber into multiple networks will also help in some migration scenarios where it is not possible to build a parallel network due to fiber constraints. The multiplexing helps in solving this by implementing the new network in parallel with the existing one on the same fiber via OTN multiplexing or wavelength multiplexing. The OTN/DWDM technology is provided by the ADVA FSP 3000 platform.
The ADVA FSP 3000 optical line system (OLS) also features a set of key functionalities required for efficient transport of signal wavelengths across long distances, including optical multiplexing, amplification, dispersion compensation, power leveling and wavelength routing.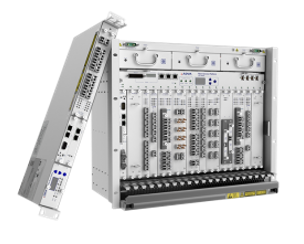 Tested Network setup