OTN Systems continues its growth with expansion at Olen site
Olen, 6 June 2023 – OTN Systems, a global market leader in telecom infrastructure for industrial networks, is substantially expanding its site in Olen this year. There will be a state-of-the-art customer experience centre and a brand-new logistics space, and the R&D department will also be expanded significantly. OTN Systems was acquired by the US-based Belden group in 2021. The expansion confirms the future of the company within this American manufacturer of network, connectivity and cable products and ensures its further anchoring in Olen.

The expansion covers three activities. Firstly, additional space is being provided for product research and development. OTN Systems is looking to the future and closely following the evolution of Wide Area Network (WAN) and cloud applications, among other things. The new building will also have a modernised customer experience centre that allows customers from all over the world to discover Belden's entire XTran portfolio, either virtually or on site. Finally, there will be more logistics space to meet the increasing demand for operational telecom infrastructure.
Steady growth requires expansion
In recent years, the company has experienced a steady yet significant growth of 37% in its employee numbers. The new building will have even more space for new employees. "This expansion confirms the success story of OTN Systems, also after the acquisition by Belden. It's great to see how the team has grown. The new offices will open the doors to an even brighter future, full of opportunities and growth. We look forward to continuing to jointly build on our success and the positive impact we can have for our customers," says Jurgen Michielsen, Senior Director of Strategy and Platform Modeling at Belden and former CTO of OTN Systems.
American confidence
The location in Olen is very important to Belden. The products and solutions developed by OTN Systems are a valuable addition to Belden's portfolio and offer customers an end-to-end solution. The telecom infrastructure provider works successfully with more than 500 customers worldwide including De Lijn (Belgium), Heathrow Airport (UK), Infraspeed (Netherlands) and Sibelga (Belgium), as well as Ausnet (Australia) and National Grid (US). OTN Systems' many years of experience of successful project realisation provides significant added value for Belden and the site is a leading centre of excellence for these types of activities.
The expansion of OTN Systems in Olen underlines the future of the company within the group. According to Patrick Deruytter, Managing Director of Solutions Delivery EMEA at Belden, this expansion will make it possible to double sales over the next four years. "At Belden, we certainly appreciate the expertise offered by OTN Systems. Thanks to their portfolio, we can continue to grow in certain market segments such as transport and energy companies. There are good opportunities for us in the future, and this expansion will help us to realise them."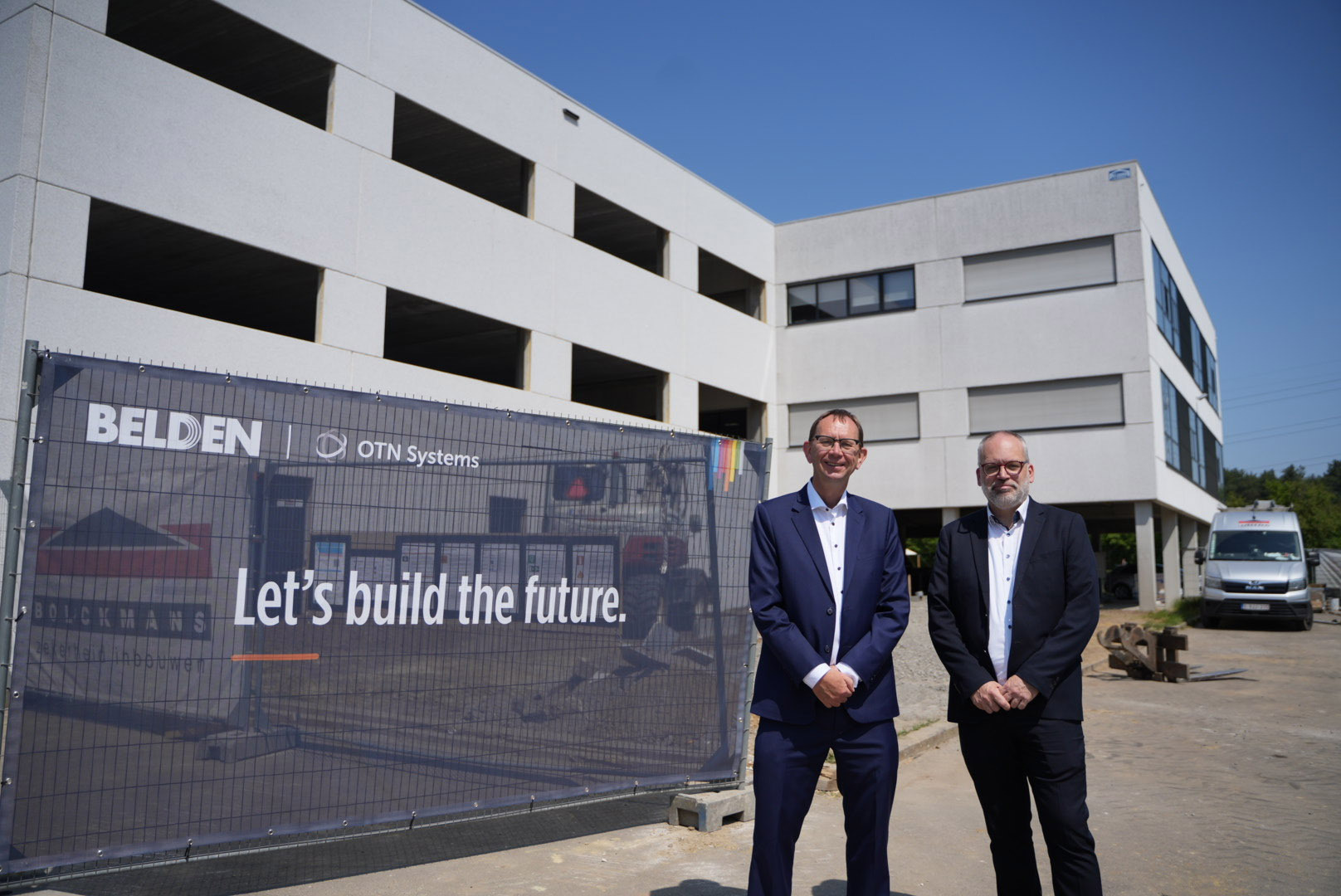 From left to right: Patrick Deruytter, Managing Director of Solutions Delivery EMEA at Belden and Jurgen Michielsen, Senior Director of Strategy and Platform Modeling at Belden and former CTO of OTN Systems.

About OTN Systems

OTN Systems in Olen distinguishes itself as a leading player in the field of telecom infrastructure for industrial networks. With a focus on designing and supplying high-quality products such as XTran, the company plays an essential role in connecting stations over long distances and providing reliable communication solutions for industrial customers worldwide. OTN Systems also offers comprehensive services, including network design and project management, to help customers achieve their specific needs and goals. With more than 500 customers all over the world and an impressive track record in successful project realisation, OTN Systems is a valuable partner for transport and energy companies looking for efficient and reliable industrial communication solutions. As part of the American group Belden, its owner since 2021, the company has experienced very strong growth. Contact us for more info or follow us on LinkedIn.
About Belden
Belden Inc. delivers the infrastructure that makes the digital journey simpler, smarter and secure. We're moving beyond connectivity, from what we make to what we make possible through a performance-driven portfolio, forward-thinking expertise and purpose-built solutions. With a legacy of quality and reliability spanning 120-plus years, we have a strong foundation to continue building the future. We are headquartered in St. Louis and have manufacturing capabilities in North America, Europe, Asia, and Africa. For more information, visit us at www.belden.com.