Bediende logistiek & transport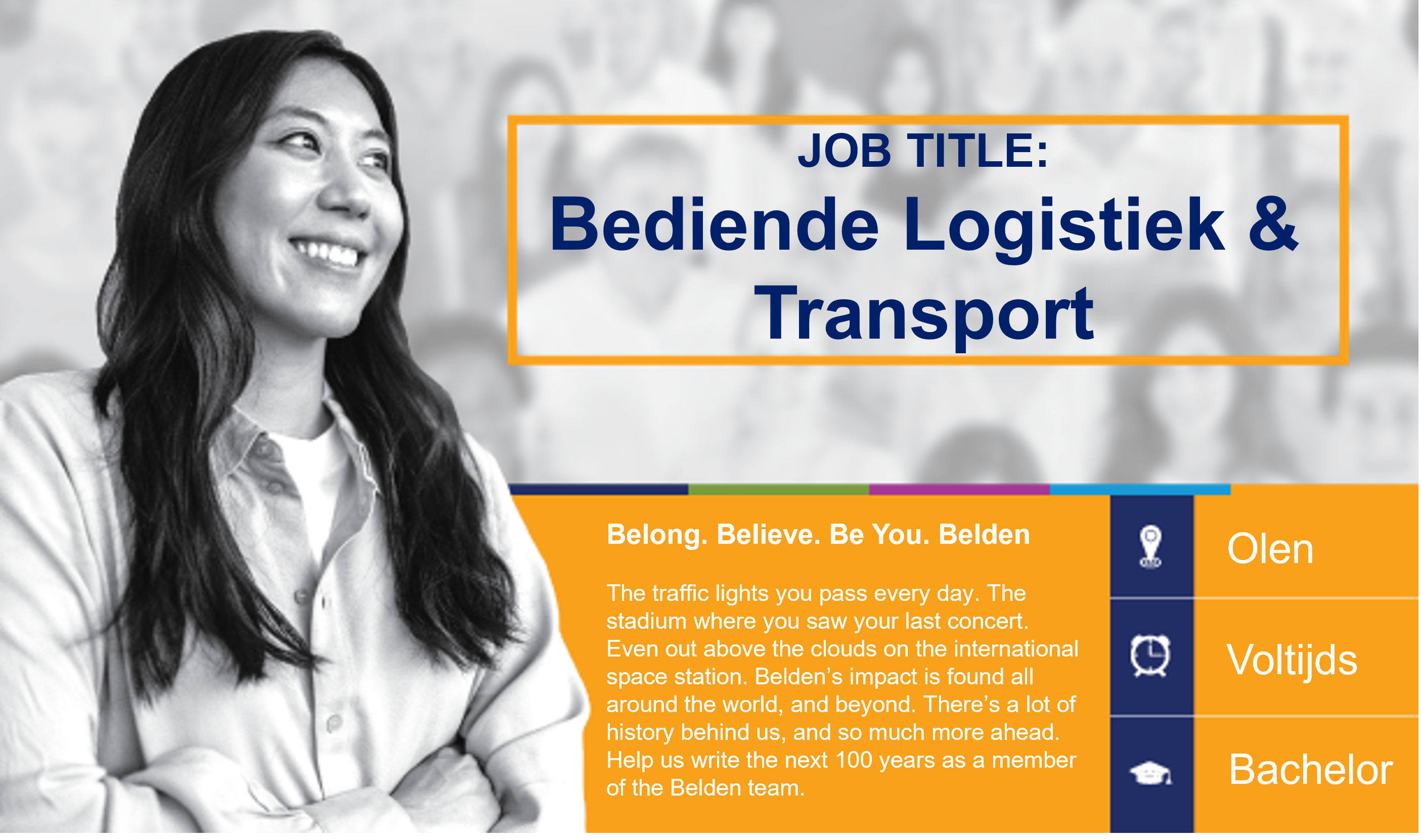 Logistiek Medewerker op de afdeling Operations
In deze rol ben je pas tevreden wanneer elke klant wereldwijd tijdig zijn producten krijgt. Tot het zover is, beweeg je hemel en aarde om dit te realiseren.
Samen met je collega's zorg je voor de dagelijkse opvolging en administratie van het logistiek proces en grijp je in waar nodig. Als teamplayer communiceer je vlot met interne en externe partijen.
Je weet dat deadlines nu eenmaal part of the game zijn. Jij houdt het hoofd koel, ook op het scherp van de snee.
Met jouw bachelor in logistiek management op zak en ongeveer 5 jaar relevante werkervaring zijn de logistiek en bijbehorende administratieve processen jou bekend. Omdat onze klanten zich over gans de wereld bevinden, is het belangrijk dat je je vlot kunt uitdrukken in het Engels. Word en Excel hebben geen geheimen voor jou en als daar nog kennis van een ERP-systeem zoals Microsoft Dynamics NAV/Navision bijkomt, staan wij je alvast met open armen op te wachten.

Verantwoordelijkheden:

Purchase and Delivery proces beheren.
Opvolging van de logistiek en administratie van de aan jou toevertrouwde projecten/klanten.
Je neemt je verantwoordelijkheid op om alle processes volgens de gemaakte afspraken te laten verlopen, je schakelt pro-actief met onze partners.
Je communiceert vlot met interne en externe partijen.
Je deinst niet terug voor uitdagende deadlines en kan adequaat reageren wanneer deze in het gedrang zouden komen.
Aanbod:
Een functie met verantwoordelijkheid en ruimte om zelfstandig te werken.
Een professioneel team in een familiale werksfeer.
Een marktconform bruto maandloon aangevuld met tal van extra legale voordelen : maaltijdcheques 8 euro, hospitalisatieverzekering, groepsverzekering, terugbetaling internetabonnement, gsm en laptop, bedrijfswagen volgens functiegraad al dan niet aangvuld met de mogelijkheid tot lease fiets.
De onderneming draagt werknemerswelzijn hoog in het vaandel, en jaarlijks worden er daar ook verschillende activiteiten voor gepland.
Interesse?
Stuur een email naar joke.van_scharen@otnsystems.com
---
About OTN Systems
OTN Systems NV, located in Olen, Belgium, develops and markets the XTran (Excellence in Transport) telecommunication equipment, dedicated to the operational telecommunication departments of metros, light-rails, oil & gas, mining, ITS (intelligent highways, tunnels & bridges), ports, utility companies, public safety and industrial campuses. With OTN Systems' unique products, it is possible to integrate different applications for voice, data, LAN, video, SCADA, etc. into one high-speed network in a single fiber optic backbone. More specifically, the OTN Systems products are at their best when it comes to mission critical networking. This is made possible by strong investment in product development and a highly skilled workforce, resulting in a unique product portfolio based on cutting edge technology.
OTN Systems is a trusted brand of Belden Inc., a global leader in high quality, end-to-end signal transmission solutions. Belden Inc. delivers a comprehensive product portfolio designed to meet the mission-critical network infrastructure needs of industrial, enterprise and broadcast markets.
---

Learn more about Belden.