Technicus Hardware Support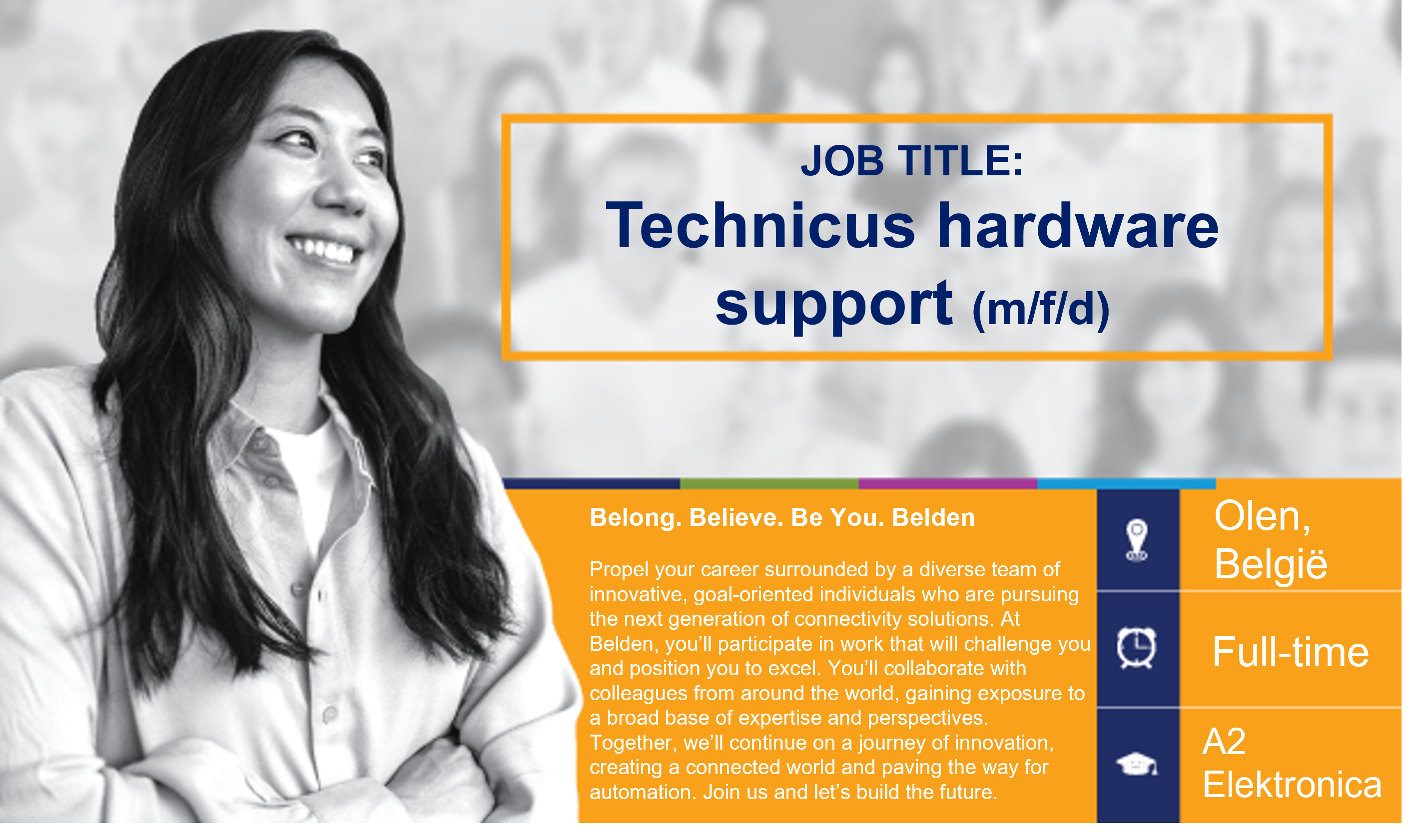 Functieomschrijving:
Als lid van het R&D hardware team kom je in een team dat nieuwe hardware functionaliteiten ontwikkelt voor het XTran platform. Je ondersteunt dit team met activiteiten op het gebied van ontwikkeling, productie en testen van prototypes. Ook het up-to-date houden van onze hardware omgevingstools behoort tot je taken. Tevens ben je de steun en toeverlaat van ons team Design Engineers in alle administratieve processen.
Vereisten:
Opleiding A2 Elektronica.
Ben je een schoolverlater? Aarzel dan niet om te solliciteren, wij geven jong talent graag de kans om zich te ontplooien.
Werken met hardware heeft voor jou geen geheimen.
Een grondige kennis van het Nederlands is aangewezen, aangevuld met goede communicatieve vaardigheden in het spreken en schrijven van de Engelse taal gezien het internationale karakter van onze onderneming.
We worden ook helemaal enthousiast als je de onderstaande zaken kan toevoegen aan je CV:

Vertrouwd met Office365 tools (WORD, EXCEL,...).
Praktisch gebruik van tools om prototypes aan te passen om debugging te vergemakkelijken, voorbereiden van testkabels,....
Vertrouwd met elektronica en het lezen van technische tekeningen.
Iedere functie komt met verantwoordelijkheden, en dat is voor deze niet anders:
Voorbereiden, beoordelen en verspreiden van datapakketten voor externe onderaannemers.
Opvolging van prototypes (etikettering en registratie).
Andere ondersteunende activiteiten voor onze externe onderaannemers.
Onderhoud van onze componentendatabase.
Ondersteuning in ons R&D lab (voorbereiden van test setups, testkabels, board modificaties om debugging te vergemakkelijken,...).
Vernieuwen van licenties.
Wij bieden:
Een competitief salaris met extralegale voordelen.
Een stimulerende en uitdagende omgeving.
Een team waar echte teamspelers zich thuis voelen.
Een bedrijf dat de bijdrage van elke medewerker waardeert.
Een kantooradres dat bereikbaar is zonder files.
Interesse?

Stuur een email naar rudy.verdonck@otnsystems.com
---
About OTN Systems
OTN Systems NV, located in Olen, Belgium, develops and markets the XTran (Excellence in Transport) telecommunication equipment, dedicated to the operational telecommunication departments of metros, light-rails, oil & gas, mining, ITS (intelligent highways, tunnels & bridges), ports, utility companies, public safety and industrial campuses. With OTN Systems' unique products, it is possible to integrate different applications for voice, data, LAN, video, SCADA, etc. into one high-speed network in a single fiber optic backbone. More specifically, the OTN Systems products are at their best when it comes to mission critical networking. This is made possible by strong investment in product development and a highly skilled workforce, resulting in a unique product portfolio based on cutting edge technology.
OTN Systems is a trusted brand of Belden Inc., a global leader in high quality, end-to-end signal transmission solutions. Belden Inc. delivers a comprehensive product portfolio designed to meet the mission-critical network infrastructure needs of industrial, enterprise and broadcast markets.
---

Learn more about Belden.